Etude House Collagen Moistfull Skin Care Kit Review
Hey Guys!
It's been too long since I've shared anything new with you guys, no? Boo on me. :/ haha
Alright, that changes right now. 🙂
Today I'm doing a review on this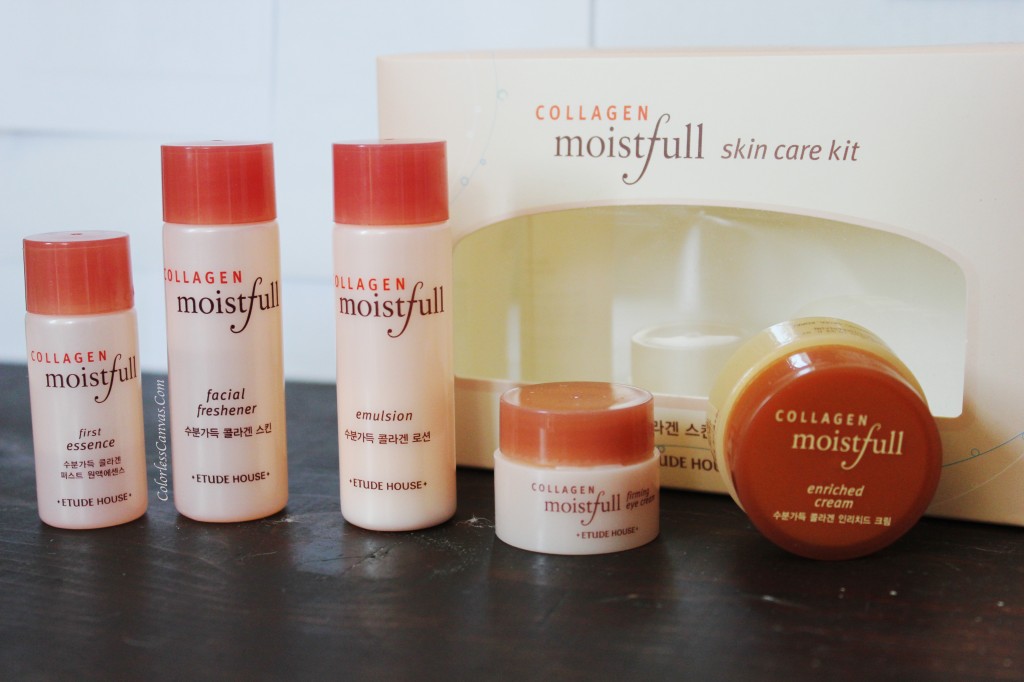 This is actually just the trial kit that I ordered off of Ebay for about six dollars.
This kit comes with five products, and I believe this is the order you are suppose to use them in.
• First Essence
• Facial Freshener
• Emulsion
• Enriched Cream
• Firming Eye Cream
I think there is a "Second Essence" as well, but I guess it's more of an option than a need?
I was interested in this product because I wanted to see if it really would help hydrate my skin. I haven't had experiance with using a lot of different Korean products, however, every one I've tried so far has improved my skin, and this line of skincare is no exception. 🙂 I use this line in the order above once in the morning before I put on my makeup, and before I go to bed when I remove all my makeup. Usually I use this line with "Etude House Skin Mal:gem Jonghyun Moist" toner. I apply the toner first and then Collagen Moistfull line.
The first time I used these products I could tell they really were hydrating my skin. Where I live, the air is very dry, especially in the summer. Using a drugstore lotion and liquid foundation I could feel my skin getting dry by noon. Using BB cream and lotion, it stopped around 4-5pm. Using Etude House Collagen Moistfull kit and BB cream I'll be fine till around 7-9pm. Also, this line had done NOTHING to irritate my crazy sensitive skin. In fact I think it has made it healthier. After a week of using these products I saw my skin was smoother because it has more moisture in it. Because of that my pores looked smaller from not being irritated from dryness, and my skin looked brighter and healthier. 🙂
The First Essence and Facial Freshener have a texture of a gel-like water, while the Emulsion feel like a slightly watery cream. And then the "Enriched" and "Eye" cream feel soft and light, but have this hint of that watery gel-like feeling. I have yet to come across an American drugstore product that has a hint of this gel-like quality. I wish they did though. It makes all the product feel very hydrating once they touch your skin. They are all thick enough that they glide across you're skin which makes them so easy to apply, but are thin fluid enough to immediately start soaking into your skin so there is no long wait for a greasy feeling to go away. I love that! Also, all the products feel cool and refreshing when you apply them.
The whole line has a very gentle, clean fragrance. Maybe a tiny hint of fruitiness? I can't think of how to describe it, but there is nothing overbearing about the overall scent of the line, and it fades away very quickly.
I've been using the Etude House Collagen Moistfull skin care kit for at least 4 months now, and I still love it, and would buy it again.
Also as a side bonus, I literally use around a 3 drop size amount of each product when I go through either my morning or evening skin care routine. A few drops will be all you need to lightly cover your face. Because I've needed to use so little, my last trial kit lasted me at least 2 months. For six buck, that is great value for you purchase.
I hope this helped you if you were considering buying this product. If you have any further questions, please feel welcome to ask me in a comment, I will get back to you ask soon a I can. Have a great day guys, and keep it snazzy! 🙂
To wrap this bog up, here is a quick likes and dislikes list.
Likes
• Very easy to apply
• Hydrates well improving overall skin health
• Feels cool and refreshen on skin
• Absorbs quickly, no waiting for a sticky or greasy feeling to go away
• Really great if you are on a beauty budget
Dislikes
• I don't have any honest dislikes with any of the products. The only thing I find is that I do prefer my Mario Badescu Hyaluronic Eye Cream over this Etude House Firming eye cream. The Etude House eye cream is still a nice product though, I just don't think I would be interested in buying the full size version of it.