Etude House Tint (Fresh Cherry) Review
So…it's been a little while since I blogged on anything…. *sighs, while blowing bangs*
No excuses, I'm just terrible at blogging. haha
Anyway, recently I got a trial sample of Etude House Tint in Fresh Cherry and I have to say I have fallen in love with it! I'm not usually one to get super excited about lip products, but this one was definitely worth a review. So lets get started.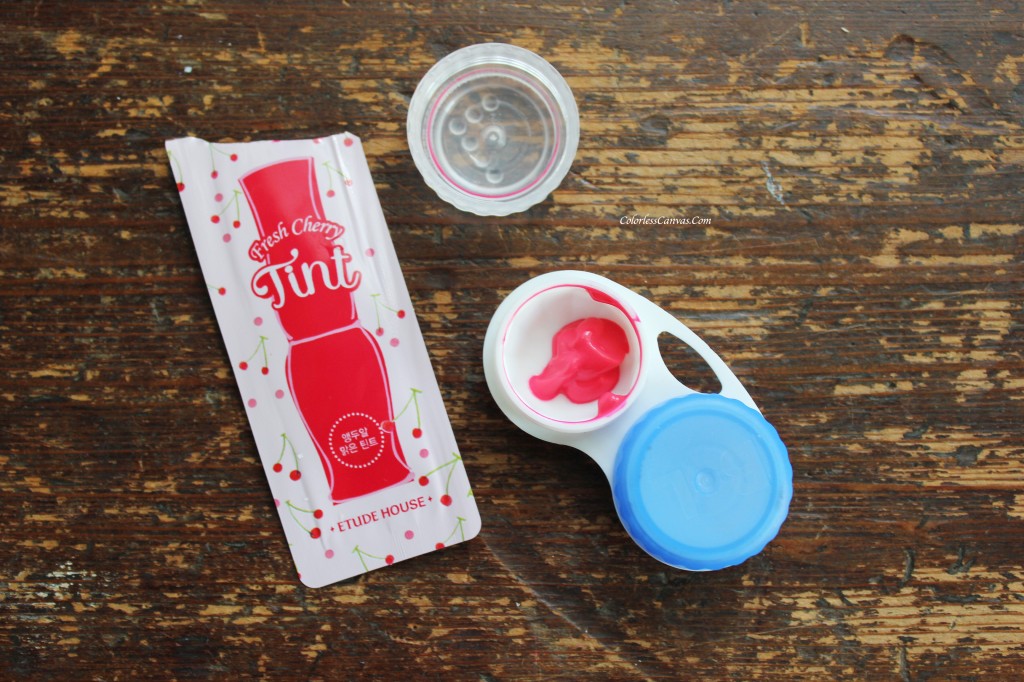 I decided to store the sample in a travel contact lens case since I wasn't going to use it all at once. I learned that from JenFromHeadToToe. If you haven't looked at her blog and YouTube Channel you should, she is so charming. 🙂
Now Etude House (a Korean brand) is calling this lip product a "tint" but as far as I can tell it would be categorized as a "lip stain" if this was a American cosmetic. I'm only mentioning this so you get the idea of what kind of product this is.
In the container, this tint looks like a thick lip gloss with no specks of glitter on sparkle. Maybe you could call it a matte gloss? The color reminds me a lot of Cherry Laffy Taffy. It has a cherry candy kind of scent as well. Nothing overpowering or overly sugary, just fun a sweet.
When you apply this tint, it thins out and won't feel gooey like a lip gloss. Like mentioned before, it's pretty much a lip stain.
For me the tint lasted about 3 hours before I felt like I wanted to touch up. In the photos below, I wore it over lip balm so I was pleased how well the color took to, and stayed on my lips. I've worn the tint a couple of times since then. It doesn't have moisturizing aspects, but it's not drying either. So thumbs up for that! Also, when using this tint, I literally use less that a water-drop amount and apply it with a pointed brush for crisp edges. Honestly, I bet that I could take that trial sample amount above, use this product every other day, and still make it last for a month. That's how little you use of this product. Which is a good thing because the full size version of the Etude House Tints are like 8-10 bucks. If you do decide to get the full one, although it seems small I think you will get your moneys worth.
So in conclusion, I give Etude House Tint in Fresh Cherry 5-5. I can't think of anything I didn't like about it.
Here are some photo swatches of the product, if you have any questions please feel free to comment below! I would love to try and answer them for you!
Keep it snazzy, guys. I'll talk to you soon. 🙂